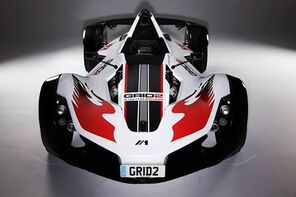 The GRID 2 Mono Edition, is a special edition of GRID 2 exclusively for the Playstation 3.
Copy of GRID 2 for the Playstation 3
Game artwork
BAC Mono Supercar
Opportunity to customize your BAC Mono
Race gear
BAC Mono Supercar for in-game
Livery for the BAC Mono Supercar for in-game
Information
Edit
The Mono edition was announced on May 24, 2013 and became one of the most talked articles of the day. The reason for this was due to the fact that it is the most expensive special edition of a game to ever be offered. The game will cost over $189,000 due to the fact that it includes an actual supercar. There is only one edition of the game avaliable all throughout the entire world currently.
The Mono Edition is the most expensive video game ever created according the Guinness Book of World Records.