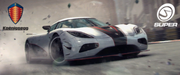 The Koenigsegg Agera R is a car built and produced by Koenigsegg. It was the fastest Agera ever to be made but the Koenigsegg One:1 was introduced later in 2014 which was one year later when the game was made.
The Agera R is the fastest car to be made and is also the fastest car ever in Grid 2. It can be unlocked after completing a Vehicle Challenge in Career Mode and it is unlocked when players reach Level 28 in Online Mode.
For the Online Mode, it is the last car ever to be unlocked.