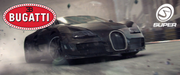 The Bugatti Veyron Super Sport is a sports car built and produced by Bugatti.
The Veyron Super Sport is the fastest Veyron that Bugatti has ever made. It is unlocked in Career mode after beating a Vehicle Challenge and in Online Mode when players reach Level 27. The price of the Veyron is 100,000,000
The color scheme, which is black and orange, is not featured in this game.